Trouble logging into your Hulu account because it won't accept your email? Well, you are not alone here. Many Hulu users are getting the "Can't verify your email now" error message when trying to log into their Hulu accounts. If Hulu is not accepting your email, keep reading this guide to know the solutions.
There could be many reasons why you can't log into your Hulu account. These are:
You may be entering the wrong password or email.
Hulu servers might be down.
Your Hulu subscription may have expired.
Your device may have connectivity issues.
Some Hulu users have reported that their accounts logged out while watching content, and then they can't log back in. We'll try to troubleshoot all login issues with Hulu in this post. Check the solutions below and test them on your device to fix the issue.
Fix: Hulu We Can't Verify Your Email Now Error
Let's begin the troubleshooting. You may not need to try all the solutions. Simply work your way down until you find the one that works for you.
1. Check Your Login Details
You may want to watch Hulu content as quickly as possible, and in hurry, we are likely to enter the wrong password. So, double-check your Hulu email address and password. Also, keep in mind that Hulu passwords are case-sensitive.
If Hulu is not accepting your email address or password, reset your Hulu password.
Note:
If you pay for your Hulu service via third parties such as Amazon, Roku, Spotify, or Apple, you'll need to use the same email address and password that you use to sign in to the third-party service.
2. Check if Hulu Is Down
Hulu has over 40 million users. The company does a good job of maintaining its servers, but there are times when it runs into server issues or outages. During server issues, you can't log into your account or play content.
To check if other Hulu users are also facing problems, use a third-party tool like Down Detector. During server outages, the best solution is to do nothing. Allow 2-3 hours for Hulu engineers to fix the issue, and then try logging in again.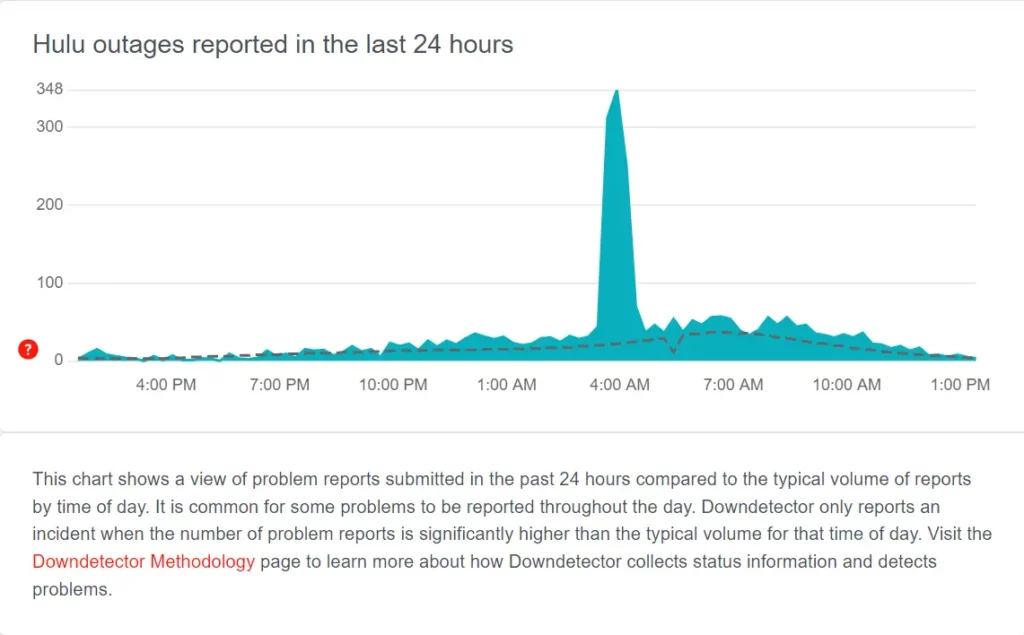 3. Check for Connectivity Issues
Hulu requires a stable internet connection. Not having so can break Hulu's functionality. This could be the reason why you can't log into your account.
Run an internet speed test via speedtest.net. If you observe internet instability or slow speed, reboot your router. Just remove the router's power cable for a minute and then plug it back in. Connect your device to the Wi-Fi and try logging in to your account. This should fix the problem. If the problem persists, you may need to try other solutions as well.
3. Restart Your Device
A software glitch or bug can break functionalities and cause issues to apps. Restarting the device is good enough to fix minor software issues on the device. After rebooting the device, try logging into your account to check if the issue is fixed.
4. Check Connect Hulu Devices
You can't stream Hulu on many devices with a single account. Unless you don't have the Unlimited Screen add-on, you can only stream on 2 devices at once.
For the moment while you're trying to log in to your Hulu account, stop using it on all devices. You should be able to log into your account.
5. Check Your Hulu Subscription
If your Hulu subscription is expired, you can only access a limited set of functionalities. Although uncommon, it might cause issues with logging into your account. Check if the subscription has expired. If yes, renew it.
Conclusion
Hulu has a huge library of content. But to access it, you'll need to log into your account. If you're playing for the Hulu subscription but can't log in to your account, then you're not getting anything out of your money. Thankfully, there are ways to fix the Hulu we can't verify your email now error, which we just looked at in this post. If this post helps you, do let us know and share it with others.
Also Read:
1. Instagram Reels Not Monetizing, What to Do?
2. How to Fix If Hulu Is Not Working?
3. How to Full Screen Google Chrome?